App-free casinos are the best gaming options on the Internet, and you can even play live at their Blackjack and Roulette tables.
When the first Apple smartphones came out in 2007, then iPad tablets in 2010, who would have thought the virtual casino industry would change so much.

According to stats from high-traffic casino guides, in 2015, bloggers saw more people playing on mobile devices than on Macs and PCs. This may seem obvious today since almost everyone has a smartphone. However, in the context of 2015, it was surprising for many online casino operators.
Casino Games without an App
The first app-free casino games already existed in the 2000s! But, you could only play these games on computers and Macs as part of a no-download game package. This meant you didn't have to install any casino software to play table games and slot machines.
Regarding mobile games on smartphones and tablets, today's technology is similar to what online casinos used in the 2000s. But, of course, some adaptations had to be made, particularly the size of the mobile web pages.
Screen sizes
On computer screens, online casino page sizes typically range from 1280 to 2048 pixels wide by 768 to 1536 pixels high. The screen sizes remain relatively similar on tablets. However, web pages are three times narrower on mobile phone screens.
Mobile Slots
Nowadays, online slot machine publishers mainly produce games that adapt to mobile devices. Considering the number of players on smartphones and tablets has overtaken Mac and PC gamers, it makes sense. In addition, you can still play mobile games on computer web browsers, so publishers are offering universal solutions. However, users are becoming less keen on games you download and play via software, so publishers are not interested in developing them.
When it comes to mobile casino games displaying large jackpots, the best paying slots are often those with payout rates close to 96%.
Slots on Apps
Web casino platforms have software that adapts to iPhones, iPads, and all Android devices if you want to play online slot machines using an App. You can download the App you need directly from the chosen casino.
Mobile Blackjack and Roulette
The first table games on mobile devices were only available in electronic format. It wasn't until 2012 that the first live Blackjack and Roulette tables appeared in online casinos for iPhones, Android phones, and tablets. In short, face-to-face dealer games via mobile devices have been active for over a decade. It's no surprise as Blackjack is very popular in the quiter world of gambling houses.
Roulette is also a huge hit with online players, which is why some casino operators use their Roulette wheels as headliner games.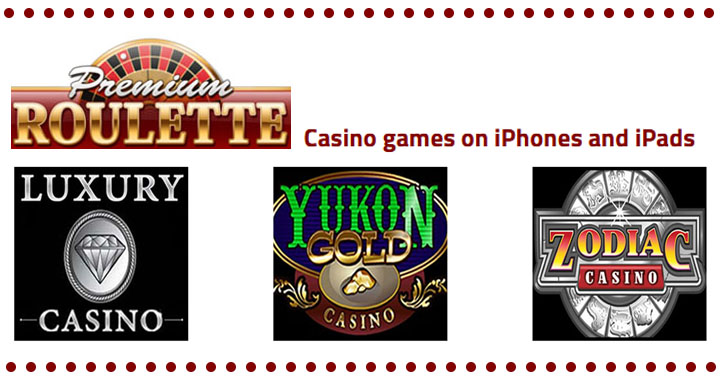 Want to know more about new Roulette wheels at online casinos? Check out iPhone casinos on the Online Roulette Tech in the UK guide; you may just find some fantastic offers!
Online casinos – App or no app?
From the launch of the first online casinos in 1994 until today, remote gaming solutions are dependent on technological requirements. Today, online casinos which don't require downloading an app adapt the best to market trends. The advantage of these web casinos is that they are compatible with all mobile devices. Although there are still a few downloadable casino sites, no-app casinos dominate the real money casino gaming industry.

Last updated on July 18, 2022 by Alex